Sailing in Autumn
As summer makes way for autumn and the days become a bit crisper, the idea of setting sail might not be the first thing that comes to mind. However, there are a number of practical reasons why choosing to learn to sail or participate in an RYA sailing courses—both theory and practical—during the autumn season makes a lot of sense.
Embracing the Cooler Conditions
Autumn offers a more moderate climate compared to the sweltering heat of summer or the cold of winter. This makes it an ideal time to engage in sailing activities. The cooler temperatures create a more comfortable environment for both beginners and experienced sailors, allowing them to focus on learning and practicing without dealing with extreme weather conditions.
Serenity on the Solent
The end of the summer season means that popular sailing destinations, like the Solent, experience a decrease in maritime traffic. This results in less crowded waterways, offering sailors more space to practice their skills and manoeuvres. With fewer vessels jostling for position, novice sailors can build their confidence at a pace that suits them, and experienced sailors can fine-tune their techniques without distractions.
Night Sailing Adventures
Autumn's longer nights provide an excellent chance to delve into night sailing, which offers practical experience in diverse conditions. The cooler autumn nights also mean you can comfortably participate in night sailing exercises without battling extreme temperatures, enhancing the overall learning experience.
Join our Night Sailing Weekends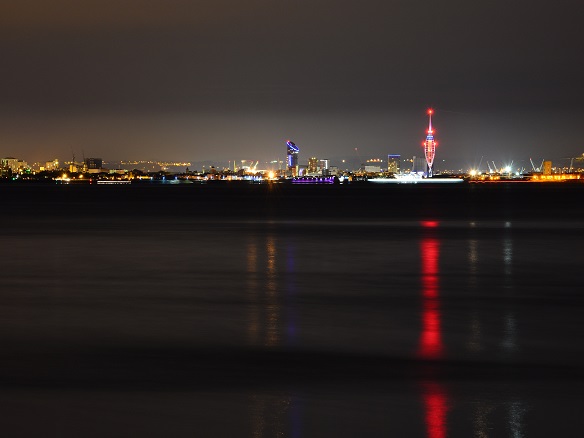 Ideal Time for Classroom or Online Theory Courses
While hands-on experience is undoubtedly crucial for sailing, a strong foundation of theoretical knowledge is equally important. Autumn's quieter atmosphere sets the stage for classroom-based RYA theory courses. Covering topics such as navigation, meteorology, and safety protocols, these courses offer essential insights that enhance a sailor's understanding of the craft. With a focused learning environment, autumn provides an excellent opportunity to absorb this theoretical knowledge, ensuring that sailors are well-prepared for their practical adventures on the water. As well as online learning, at First Class Sailing, we have theory courses in London and Southampton. Or we can even come to your office after work to run courses for you and your colleagues.
To Sum Up
Choosing to pursue RYA sailing courses during autumn offers tangible advantages. The practical benefits of milder weather, less crowded waters, night sailing opportunities, and focused theoretical learning make this season an opportune time for honing sailing skills. By considering an autumn RYA sailing course, sailors can take advantage of the quieter seas and the conducive learning environment, ultimately becoming more confident and capable sailors.
Check out our upcoming course dates:
RYA Practical Sailing Courses
RYA Yachtmaster Coastal or Yachtmaster Offshore
RYA Theory Sailing Courses
RYA Online Sailing Courses
RYA Essential Navigation and Seamanship Theory Online
RYA Professional Practices and Responsibilities Online
RYA One-Day Courses
RYA Offshore Personal Survival
RYA Yacht Electrics and Marine Systems
RYA Yacht Rigging and Rope Splicing
The post Why Undertaking RYA Sailing Courses in Autumn is a Brilliant Idea appeared first on Sailing Blog.