The price of sailing lessons will vary depending on factors including the location, duration, and level of instruction, plus how many others are on the yacht. We are entirely transparent with how much our sailing lessons cost, so you don't get any hidden surprises when you book.
Whilst you might find that costs vary from school to school, it's important to remember the value that should be placed in the quality of teaching, experience, national reputation, and positive customer reviews – all of which we have in abundance at First Class Sailing. Not only will you learn valuable skills that will stay with you for life, but you'll also explore the beautiful coastline around the Solent.
With that in mind, here's how much sailing lessons cost when you decide to book with us.
How much does it cost to learn to sail?
Whether you're a complete beginner or a seasoned sailor looking to improve your skills and gain more qualification, we have sailing lessons with a budget to suit you.
If you are beginner, sailing lessons will cost from £947 for a five day Competent Crew course with First Class Sailing. Prices include accommodation on the boat and meals.
A guide to our sailing lesson prices
When it comes to booking sailing lessons it should never just be about the price. The section below aims to give you an idea of how and why our sailing lesson prices vary and why other companies might charge more or even less.
The price of an on the water sailing course varies and depends on two factors.
1. What days of the week the course runs on
Our RYA sailing courses are all run over 5 days. (Competent Crew, Day Skipper, Coastal Skipper, and Yachtmaster Prep). The cost of a sailing course varies depending on whether a course is run over 5 consecutive days, whether a weekend makes up part of these five consecutive days, or whether the course is held over 2 weekends (a short and a long).
Generally, courses and lessons that run over weekdays only i.e., a Monday to Friday, are priced lower than those that include a weekend and those that include 2 weekends are priced higher than those that include just 1 weekend (i.e. a Wednesday to Sunday).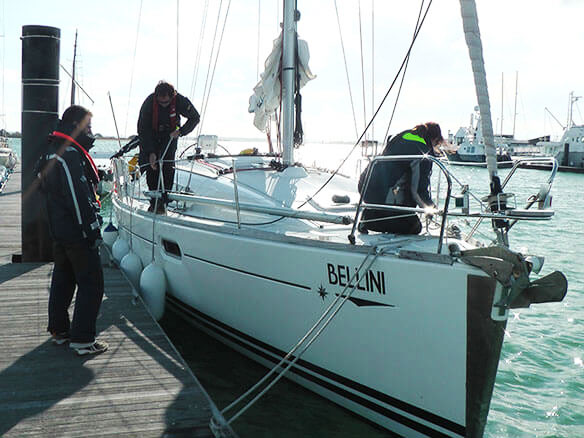 2. The ratio of students to instructor
We offer courses with ratios of 3 students to 1 instructor, 4 students to 1 instructor, and 5 students to 1 instructor. The lower the student to instructor ratio the higher the price.
3. The type of course
Yachtmaster prep courses cost a bit more than Competent Crew, Day Skipper and Coastal Skipper which are all the same price. This is because generally we only take 3 Yachtmaster candidates at any one time.  Because we don't have a 4th or 5th person, we must therefore charge a bit more.
What is included in the price and what is not?
Our on the water sailing course prices include the obvious aspects like the instructor, accommodation on board, all safety equipment, fuel, and gas. They also include the use of oilskins and all food on board.
That said for 7 or 10 day trips we include all food apart from 2 or 3 meals because we think you might wish to sample some of the local cuisine ashore.
For most of our courses and trips the only cost not included are mooring fees. You end up splitting the cost of these with your fellow students. Rather than us cover the cost and therefore dictate which marinas you can go to it gives you freedom to choose which marinas to visit. It also gives you the experience of learning first-hand how much marina fees are and interacting with marina staff – all good stuff.
How do shore based navigation sailing classes prices vary?
Our shore based sailing course prices depend on:
Which course it is – Day Skipper, Yachtmaster, Yachtmaster Ocean. Generally, Day Skipper is not as much as Yachtmaster or Yachtmaster Ocean
The format of the course – online, on Zoom or in the classroom.
A purely online course is cheaper than a Zoom course which in turn is a bit less than a classroom course.
Courses on Zoom or in the classroom that are held over weekends, or 5 consecutive days are generally a bit more than courses that run over 8 evenings and a weekend.
What about the 'supplementary' course prices?
Here we are talking about the VHF Radio course, Diesel Maintenance course, Sea Survival, Rigging and splicing courses etc.
Most of our 1 or 2 day courses are priced very similarly. Those that cost a bit more generally involve using more equipment and those we hold in London are usually a bit more that the ones we run in our own classrooms on Southampton due to the additional overhead costs.
How much does a sailing holiday cost?
Like with the practical sailing courses, prices vary according to how many weekends are involved, what the ratio of crew to skipper is and how many days the holiday is for and where the sailing holiday takes you!
A 10 day holiday cruising around the Caribbean or the Lofoten Islands of Norway will cost you more than a week cruising in the West Country – even though the West Country is a pretty amazing cruising ground!
How are sailing lesson prices set?
The actual price we charge whether it's for a Monday to Friday or 2 weekend practical course or a First Aid at Sea course is determined by the cost to run them.
There are direct costs like the cost of owning and maintaining a yacht in tip top condition, the cost of food, the price of fuel and gas, the overheads involved with a classroom. Our fantastic instructors and skippers are crucial to what we do and the amount we pay them also influences the price.
There are also the indirect costs such as our office overheads and our wonderful office team.
Why are some companies' prices cheaper than First Class Sailing?
You will find some companies' sailing course and holiday prices are less than ours.
Some companies will be considerably cheaper, and they will likely be a 'one man/woman, one boat band'. The instructor that takes your 5 day sailing course is also the person that takes your booking, maintains the boat, orders the food, looks after their own website etc. It is a challenging role, and we have a lot of respect for these operations. Because they have very low overheads, they can keep their prices down.
At First Class Sailing we have a team in the office focused on answering any questions you might have, making sure we are using top rate well paid instructors, ensuring our boats are kept clean and well maintained and making sure that we live up to our Triple S Guarantee.
The post How Much Are Sailing Lessons Going to Cost / Prices? appeared first on Sailing Blog.