A History of Signature Yachts
A note from Tori Parrott and Dixie McCullough
Since its inception to today, Signature Yachts' history has been made by people with a life-long love of sailing and a singular devotion to serving the yachting community and our customers.
As co-owners of Signature Yachts, we know we are following in the wake of the company's founder, Robbie Robinson. We are beneficiaries and guardians of his enviable reputation and legacy, all while dedicated to bringing our own skills, gifts, experiences, and dreams to guide Signature Yachts' present and future.
The story of Signature Yachts began with Robbie. While the story continues with us at the helm and mainsheet, here's a fond look back, largely drawn from a Robbie friend's memorial remembrance.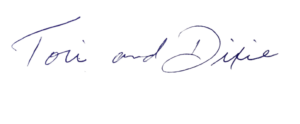 A Remembrance
Robert Alan "Robbie" Robinson July 3,1958 — September 15, 2019
To hear him tell it, the story went like this:
Teenage Navy Seaman Robbie Robinson stood mulling his fate, elbow-deep in soapy dishwater. He'd somehow offended his Chief Petty Officer. Punitively, he'd been assigned galley duty deep down near the bilges of the USS Eisenhower, at 1,092 feet long, one of America's grandest aircraft carriers.
A skilled sailor since he first skippered an 8-foot sailing pram at age 5 near his parents' home in Hawaii, the galley was not where he had imagined himself. He had spent much of his boyhood and teens growing in his love for sailing, teaching others to sail, counseling at sailing camps and exploring waters on both coasts. His adventurous notions of Navy life focused on sea and sun, neither of which he could appreciate while buried so far below the top decks. Now the nearest salt was what he rinsed from greasy chow trays. No wonder some of the more than 5,000 crew members called the ship "Ike-atraz."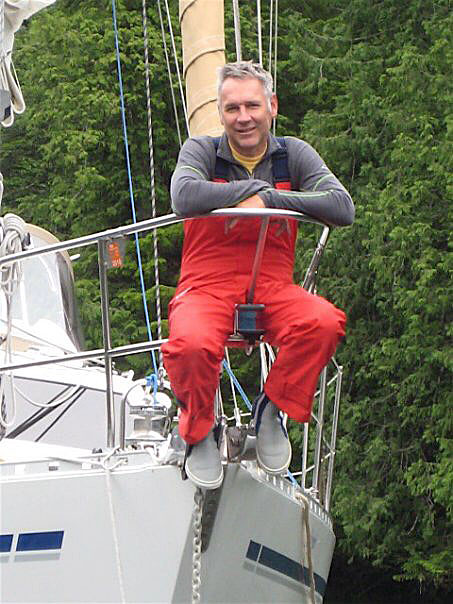 He had unloaded this lament to his dad, who had replied, "If they make you a dishwasher, be the best damn dishwasher they've got. Whatever you are, always be the best one that you can be. It'll work out."
Shortly thereafter, the Eisenhower's senior officers, searching for staff for their wardroom, asked to be provided with the galley's best man. The galley sent them Robbie, who was soon hobnobbing with the ship's captain — who also loved sailboats — and helping top officers understand some of this new-fangled computer equipment they were receiving, gear Robbie knew from a previous Navy assignment in remote Adak, Alaska. Robbie never went back to the galley.
So it had worked out. His dad's advice stuck and served him well, personally, and professionally, for the rest of is life as he rose to become president of Signature Yachts and one of the most respected and admired figures in the Northwest maritime industry. It failed only once, as he tried for his last year to be the best damn cancer patient anyone had ever seen. He lost that valiant effort in the company of close family and friends on September 15, 2019 at his Seattle home. He was 61.
His death ended his decades of dedication, service, and contributions to sailing, the marine industry, the LGBT community, his family and a wide circle of friends and clients locally, nationally and around the world. It also ended the life of an introspective man who at times could seem shy and quiet but whose close associates knew to be a natural leader and gifted businessman harboring a sly and often mischievous sense of humor and a deep reservoir of human concern and kindness.
After his four years in the Navy, Robbie had returned to the Northwest and resumed his education, enrolling at Western Washington University in Bellingham. When he was younger, as his family moved about, he had gone to public and private elementary and high schools from Hawaii to Mercer Island to Bellevue to Albuquerque, New Mexico. At WWU, he delved into everything from business to navigation to fiberglass manufacturing to nautical engineering. While doing so, he interned at nearby Nordic Yachts, a builder of fine cruising sailboats. It would all come in handy later.
Even several years before his 1986 graduation from WWU, Robbie had begun his life in business, partnering with a friend to buy a succession of small boat-related businesses in Bellingham. Eventually, in 1986 they acquired a sailboat dealership that they renamed Performance Yachts, representing Catalina Yachts, Island Packet and Nordic.
When their Performance partnership ended after a few years, Robbie continued as owner, eventually expanding to Portland before selling the dealership in 1993.
Shortly after that sale, he moved Signature Yachts to Seattle's Lake Union, from which he actively managed the firm even into the final days of his life.
Over the years, Signature represented many of yachtings' biggest and best brands of sail and power craft. Now located at 2476 Westlake Avenue North, its current lineup includes Beneteau Oceanis and First Series sailing yachts and Fontaine Pajot catamarans.
In 2003, with the purchase of competitor Greathouse Yachts, he added Beneteau to a line-up of brands that then included Hunter and several other notable builders.
In the following years, through boom times, recessions, and other business challenges, he made sure that Signature endured and emerged stronger.
The sales staff at Signature, particularly notable for its sailing expertise and relatively low turnover rate, grew to appreciate Robbie's commitment to hard work but, just as sincerely, to abundant fun.
Company trips, all strictly educational of course, took employees to Caribbean sailing cruises, boat shows in Newport, Annapolis, Miami or Paris, ski resorts, and yacht production lines (often located on the water near scenic places dotted with beckoning beach bars).
"You just never know where you might end up," Robbie would grin, lifting his Pain Killer in a toast familiar to his crew.
Tori Parrott, a 17-year veteran of the Signature Team, seasoned sailor and seasoned survivor of many weekly coffee shop staff meetings, recites other Robbie-isms:
Let's try it on to see if it fits.
If you do the right thing, you'll make the right decision.
At the end of the day, all we have is our integrity.
Under promise, over deliver.
"Ultimately," Tori says, "the name "Signature" represents it. Whatever it was, he put his name on it."
SIGN UP FOR THE LATEST SIGNATURE YACHTS NEWS -
Get our email newsletter and find out first about new and used boat listings, rendezvous plans, and educational events.
We are open Monday – Saturday 10-5 and Sunday by appointment.
Please give us a call!
2476 Westlake Avenue North, Suite 101
Seattle, WA 98109, US
Tel 206-284-9004
info@signature-yachts.com