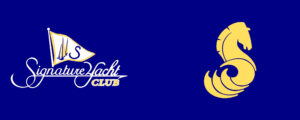 If you bought your boat from Signature Yachts, Congratulations and Thank you! You're a Member of Signature Yacht Club!
Our very informal "Club" hosts events throughout the year including our annual SYC All-Fleet Rendezvous each June! We gather boats of every brand that we've sold through the years for a weekend of good times with a little education thrown in! Sometimes we have training sessions for spouses, docking or anchoring seminars, speakers on various topics such as navigating or taking care of your boat. Highlights of each June's gathering include happy hour on the dock, The famous CSR Marine Bow Thruster Blender, Big Potluck Dinner on Saturday night and our incredible Blueberry Pancake Breakfast dockside on Sunday Mornings!
We also do winter 'Off Season" events such as the SYC Outstation at Elliott Bay Marina where speakers give slide presentations of our favourite cruising grounds and share a BBQ or Potluck dinner. We hope you'll join the fun and get to know some of our friendly and amazing customers and friends by attending one of our many SYC Events! Just ask us for details!