Celebrating an Inspiring Journey: 94-Year-Old Alison Takes Control of Golden Vanity
A heart-warming story unfolded on the Solent when 94-year-old Alison steered First Class Sailing's iconic Golden Vanity yacht. Joined by her family, Alison's adventure showcased the enduring spirit of exploration and fascination with the sea.
After the voyage, Alison penned a heartfelt letter that encapsulated the magic of the day. Her words, "What a wonderful day on Golden Vanity I had. It was one of the very best experiences in my long life," serve as a testament to the significance of the experience and the profound impact it had on her.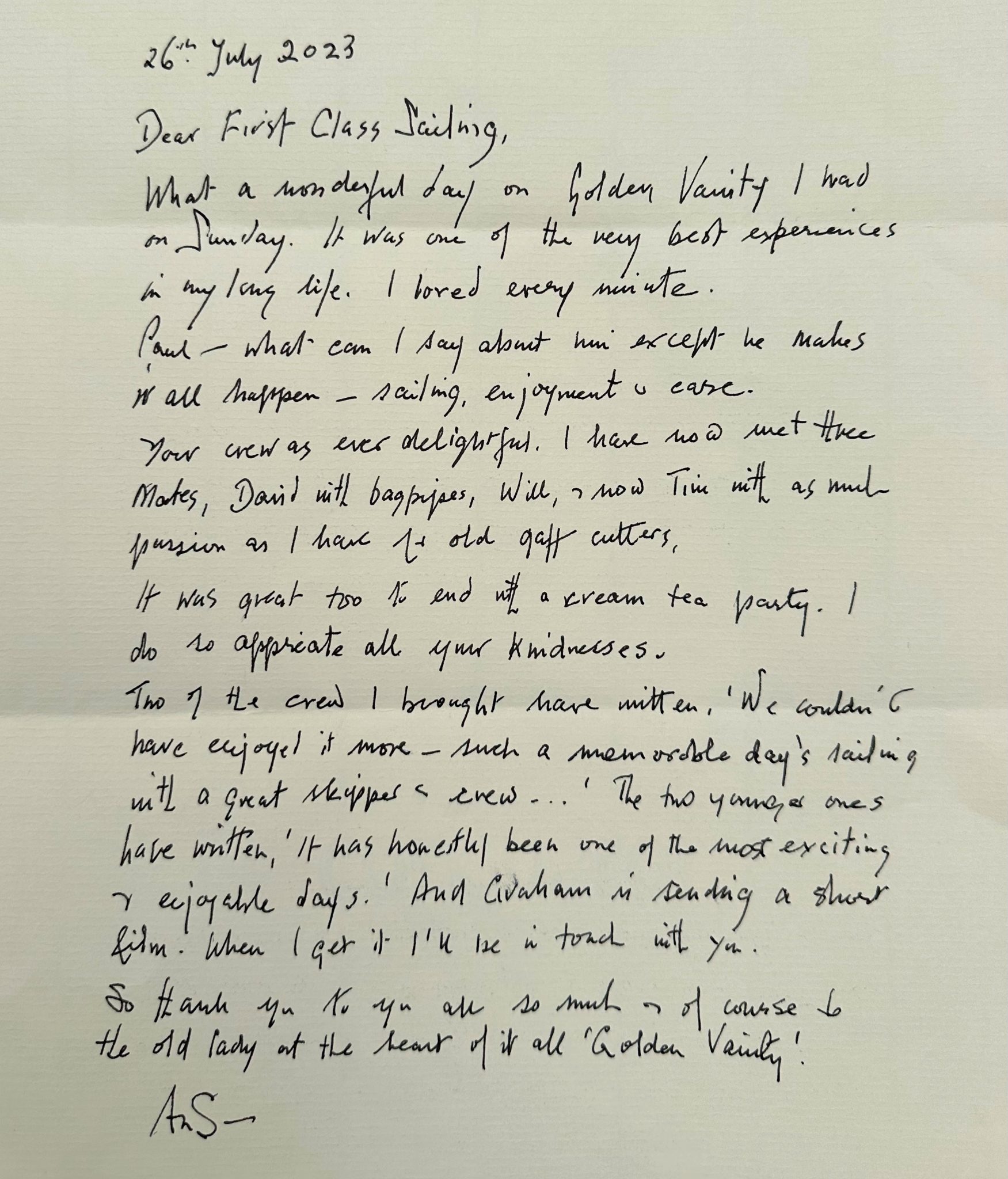 Golden Vanity itself is steeped in history, having survived the passage of time and witnessed countless stories on its decks, starting with her first owner, renowned marine artist Arthur Briscoe who regularly sailed on board with his close friends and spy novelist Erskine Childers, who wrote Riddle of the Sands.  Originally constructed in 1908 and used for coastal cruising, it has been meticulously maintained and periodically renovated to preserve its authenticity and charm.

Alison's voyage on the Golden Vanity serves as a shining example of the enduring bond between generations, the timeless appeal of the sea, and the joy of sharing a remarkable experience with loved ones. Alison's day on the Golden Vanity is now a part of the yacht's rich history, adding another chapter to its storied past.
We are delighted to be welcoming Alison again later in September, and hopefully many more adventures still.
Watch our YouTube video of Alison's journey – here.
At First Class Sailing, we firmly believe that age should never limit one's capacity for adventure and exploration.
Find out more about Golden Vanity, or contact us by email – info@firstclasssailing.com or call us on 023 8001 1077, we'll be happy to hear from you!
The post Celebrating an Inspiring Journey: 94-Year-Old Alison Takes Control of Golden Vanity appeared first on Sailing Blog.