SPECIFICATIONS
| Type | English | Metric |
| --- | --- | --- |
| Hull Length | 26'3" | |
| Hull Beam | 8'4" | |
| Light Displacement | 3,747 lbs | |
| Engine Horsepower | 15 HP | |
| Propulsion | Yanmar inboard | |
| CE Certification | B6 | |
| Draft | 5'7" | |
| Ballast | 1,344 lbs | |
| Unsinkable compartmentalized volume | 105.9 cubic ft | |
| Building Technology | Vacuum-Infused GRP | |
SAIL AREA
| Type | English | Metric |
| --- | --- | --- |
| Mainsail (Dacron) | 215.3 sq ft | |
| Jib (Dacron) | 186.2 sq ft | |
| Gennaker (Nylon) | 764.2 sq ft | |
GET TO KNOW HER
The flagship of the new FIRST line, the First 27 is unquestionably the fastest and safest cruiser in this size range. Her modern and state-of-the-art design delivers the magic of planing sailing to families, couples, and solo sailors alike, wherever the cruising ground and whatever the weather conditions. A true pocket yacht, she has an inboard Yanmar diesel, a working galley, a real head and plenty of storage, as well as room for up to six crew members for overnight adventures. 
NAVAL ARCHITECT : Samuel Manuard
INTERIOR DESIGN : Gigodesign
Concept and R&D : Seascape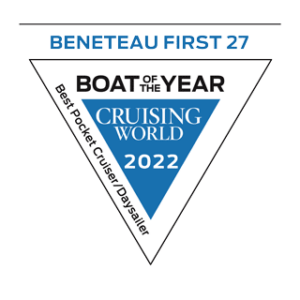 SAILING EXPERIENCE
THE DESIGN

The main promise and differentiation of the First 27 is her performance and unique sailing experience. Again and again, she will surprise you by getting to plane with as little as 12 knots of wind. She sources her stability from a wide and flat hull on the waterline and a lead T-bulb keel. Increased bow volume, accompanied with a balanced twin-rudder steering system, keeps you in complete control, whether you are sailing upwind or safely planing downwind. Easy boat handling comes from carefully thought-out boat design and cockpit ergonomics. Planing sensation and excitement will become your afternoon sailing routine on the First 27!

While being as fast as most race boats, she also offers a surprising level of comfort. The clean and minimalistic light-weight interior offers all the essential amenities for onboard living. She is designed to sleep up to 6 adults, 2 in the bow cabin and up to 4 in a very bright and openly spaced salon and is also equipped with a removable table and fridge. In the midsection, you'll find a galley with a gas burner and a sink with fresh water. Thanks to innovative, foldable magnetic doors, the midsection can be converted into a proper marine toilet with a black water tank or used as a front cabin extension. A large and open cockpit welcomes you with comfortable benches, a removable indoor/outdoor table and a swim ladder with a shower on the stern.

SIGN UP FOR THE LATEST SIGNATURE YACHTS NEWS -
Get our email newsletter and find out first about new and used boat listings, rendezvous plans, and educational events.
We are open Monday – Saturday 10-5 and Sunday by appointment.
Please give us a call!
2476 Westlake Avenue North, Suite 101
Seattle, WA 98109, US
Tel 206-284-9004
info@signature-yachts.com