This year's Beneteau Rendezvous, at Brownsville Marina, had over 50 boats and 150 people participating. The largest yet!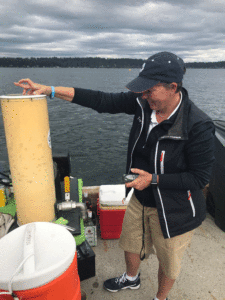 Friday evening started the weekend off with our Appetizer mixer with the best three appies winning a prize (which was really hard to decide since they were all so good). Afterwards was the happy hour – meeting up with old friends and and making new ones.
The next day was breakfast on the dock, then onto the Beneteau Cup race. We had wind for the first race, but it pretty much died down for the "fun race" – making it difficult to finish. Didn't really matter, everyone had a great time.
Then onto the CSR Bow Thruster Blender with Tori making her famous (or is it now "infamous") rum punch. Those that didn't need a nap after that moved up to the pavilion for the barbeque dinner and awards party. The pavilion was filled to capacity – guess we need to add an addition next year!
Sunday morning saw the Signature crew making blueberry pancakes and sausages for breakfast before everyone started to head home. The weekend was filled with wonderful people, good food, and fabulous memories. See you all next year!